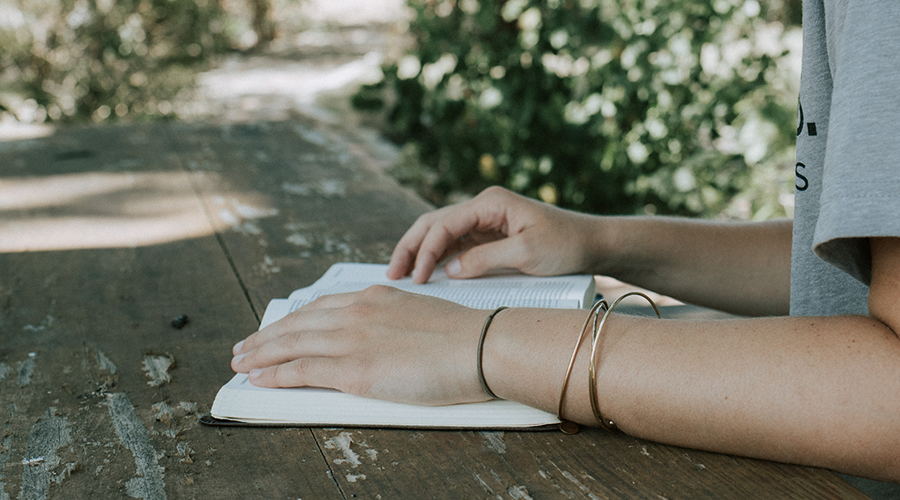 Change Your Perspective with ASICS Studio's favorite Books.
If you're lucky enough, you might come across a book that resonates with you in a completely new way. It might even inspire you to actually pursue your dreams about running a marathon, becoming a doctor, or wherever your mind takes you when you daydream.
We've compiled a list of our most earth-shatteringly motivational books that teach us to embrace our hopes and fears alike. These books teach us how to accept our flaws, insecurities and failures as part of what makes us unique.
These books are the ultimate DIY. We recommend you get your hands on them because the most important thing you should be working on is yourself.
For the big dreamer.
You Are a Badass by Jen Sincero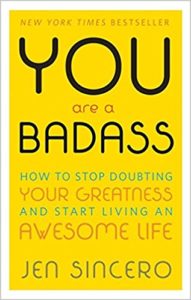 Quote: "If you're serious about changing your life, you'll find a way. If you're not, you'll find an excuse."
New York Times bestselling author Jen Sincero explores the power of positive thinking with this page-turning piece. A simple change of mindset, Sincero explains, is the elixir for ailments like ruts, fears and doubts. This lighthearted but wildly profound book gives readers the ability to visualize their aspirations and the path to obtain them.
For the go-getter:
The Big Life by Ann Shoket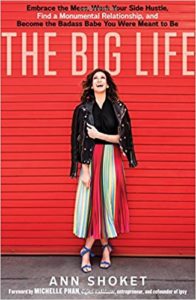 Quote: "In your heart, yours is a story of epic proportions, and just thinking about where your life might take you fills you with excitement. And that's what 'The Big Life' is all about, knowing there is no limit to the experiences you'll have, the people you'll meet, the places you'll go, and all the amazing moments you'll have along the way."
Don't let her Stella McCartney suits and manicured nails fool you, Ann Shoket has no problem getting her hands dirty. As Editor-in-Chief of Seventeen Magazine, Shoket is a vault of knowledge about the corporate ladder. The Big Life is packed with insights around earning respect, money, and confidence as women in the workforce. Not only does Shoket touch upon her own career journey, but the journeys of millennial women she's met over the years. Together, these corporate trailblazers search for the keys to success for women in the workforce.
For the unconventional thinker.
You're Not That Great (but Neither is Anyone Else) by Elan Gale: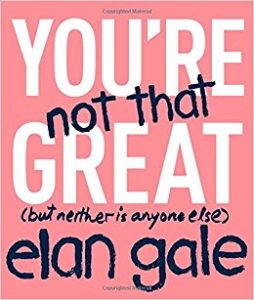 Quote: "When you finally unleash the surging pile of built-up self-loathing that lives inside your head, you'll find yourself significantly more capable of actually doing the things you want to do."
Evan Gale's book is one of the most humbling, real and raw books on the shelves. His fundamental argument is that human beings avoid negativity like the plague, even though it's all around us. Using a combination of stories from various successful people and the revelation of his own deep-seated insecurities, Gale publicly embarrasses himself time and again throughout this book. Gale explains that negative and challenging experiences are inevitable, but there's an opportunity to channel these experiences to do better in all aspects of life.
For the creator.
Big Magic by Elizabeth Gilbert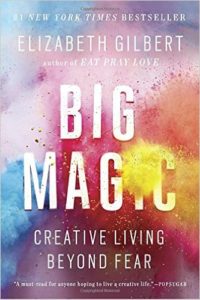 Quote: "Do whatever brings you to life, then. Follow your own fascinations, obsessions, and compulsions. Trust them. Create whatever causes a revolution in your heart."
Creativity is an unusual beast. The ebb and flow of creativity is almost always unpredictable—and usually unreliable when you need it most. Elizabeth Gilbert, author of Eat, Pray, Love, brings her own creative successes (and failures) to life in this book. Gilbert teaches readers how to grapple with the wonder that comes with having a creative mind, and how to use it to construct our best work yet.
For the realist.
The Subtle Art of Not Giving a F*ck by Mark Manson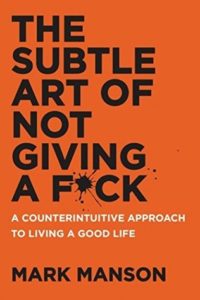 Quote: "Who you are is defined by what you're willing to struggle for."
Mark Manson is blunt, to put it lightly. Despite his unconventional thinking, Manson's intellectual argument is incredibly well-argued (not to mention hilarious and self-deprecating). Manson strips away the sugar-coating to give readers a reality check about the inevitable challenges we will face. He suggests that once we can embrace our flaws, we'll learn to prioritize our lives and uncover the greatest truths.