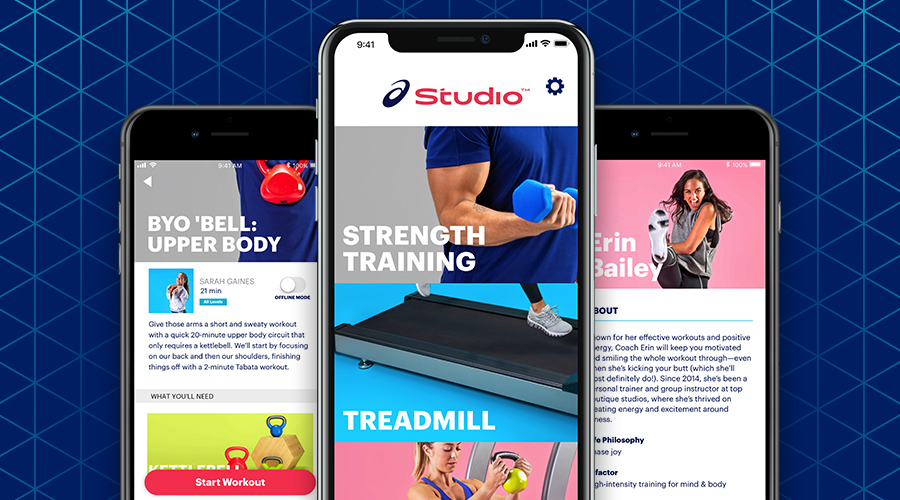 Introducing ASICS Studio
We've always believed that a workout doesn't have to be intense or intimidating to be effective. Fitness should be fun—otherwise, it makes it pretty hard to stick with. (Or is that just us?)
It's a big reason why we've always loved our group fitness classes. Great trainers, built-in accountability and measurable results in a social setting can be incredibly motivating. But… those classes can also be expensive. And they don't always fit our schedules.
That's why we're super excited to announce our newest fitness app: ASICS Studio. It's got everything we love about group classes (butt-kicking instructors, 🔥 music and carefully selected exercises) and less of what we don't (overcrowded studios, inconvenient class times and high gym membership prices). We love that it allows us to get in a good workout literally anytime, day or night—and that we don't even have to leave the house if we don't want to.
Intrigued yet? We hope so! All you need to get started is your phone, a comfy pair of headphones and a little motivation. Doesn't get much easier than that. And on days when motivation might be the tough part, just give your personal trainer a couple minutes to convince you—they're encouraging (some are tough love, if you're into that) and they really know their s**t.
So, what happens when you fire up ASICS Studio? You're served up an array of audio workouts, each one accompanied by a great playlist. Choose from workouts in strength training, cardio or a mix of the two.
Here are just a few of the workouts you'll find on the app today:
Bootcamp, Baby (Strength Training)
You know the drill… or drills, in this case. This is your typical fast-paced bootcamp workout, which means interval training and just enough weighted cardio to make you sweat.
Burpee Challenge (Strength Training)
Yeah, this is exactly what it sounds like. Challenge yourself to do 100 burpees—it's totally doable thanks to Coach Erin's modified progressions. Just think how badass you'll feel when it's all said and done.
Full Speed Ahead (Elliptical)
Who said the elliptical was boring? This hill workout will challenge your entire body, from core to armFul to legs. Crank up the music and push yourself.
Speed Run (Treadmill)
Cardio junkies will enjoy this quick sprint workout with Coach Kelli (her specialty is running, so this workout is no joke).
Big Hill, Heavy Weights (Fusion)
Looking to challenge yourself? This fusion workout is half on the tread, half on the mat for a heart-pumping mix of cardio and strength training.
Faster = Stronger (Indoor Cycling)
Alternate between sprints and rest for a cycling class as challenging as any you'll get in a brick-and-mortar studio.
You'll find even more workouts available in the app, with plenty being added regularly. Mix a few into your weekly fitness routine—we think that you'll find it's a really simple, convenient way to make your workouts happen. And we'd love to hear your feedback once you give a few a try.
Learn about ASICS Studio's awesome trainers. 💪