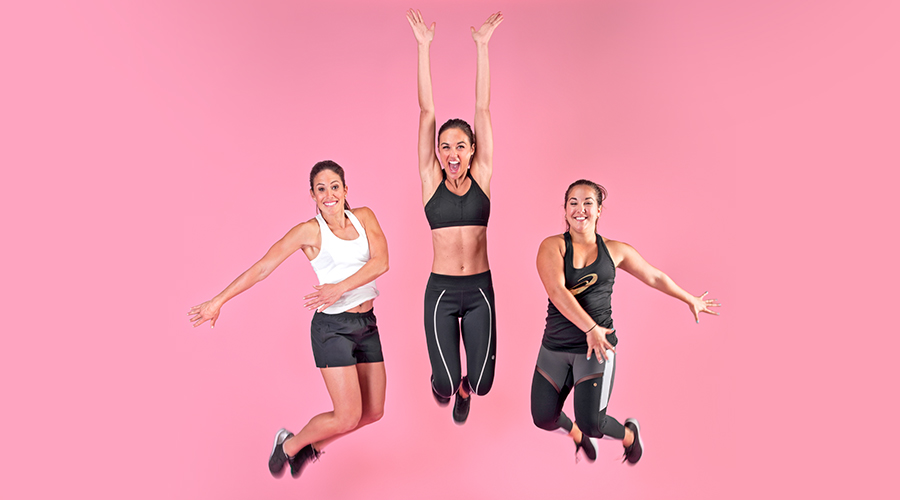 Meet Your Trainers
When creating a fitness app, it's essential to have seriously good fitness professionals on hand. So we enlisted personal trainer Erin Bailey to head up the ASICS Studio trainer team. In addition to leading many of our workouts herself, she's also worked hard to assemble an incredible crew of fellow trainers, all of whom are known for their motivating teaching style and ability to deliver enviable results for their clients—all while having a ton of fun.
No matter how you love to move, there's an ASICS Studio workout to suit you. Here's a quick primer on our permanent trainers (we'll have featured guests every now and then, too!). They all have their own unique teaching style, but we can only explain so much in words—the best way to discover your favorites is to start trying workouts. 😁


Erin Bailey, The Coach
Erin has all the qualities of some of our favorite coaches over the years: down-to-earth and accessible as a person, incredibly motivating as a trainer. We love her classes because they are clear and easy to follow, and because we always know we're getting an awesome workout.
Featured 15-Minute Workout: Upper Body Circuit(Strength Training)


Colin Batty, The Frontman
Tap into one of Colin's workouts and you'll see why he's known for his raw energy. Maybe it's because of his outgoing personality, maybe it's because he was a frontman in a band—either way, he has a way of keeping us engaged and present, even when we're sweating our hearts out.
Featured 15-Minute Workout: Resist! (Elliptical)


Kelli Fierras, The Badass
An athlete for years as well as a licensed nutritionist, Kelli is an absolute beast, known for classes that will challenge you… Every. Single. Time. She's also a running coach, and we highly recommend her workouts if you're looking to improve yourself as a runner, both mentally and physically.
Featured 15-Minute Workout: Speed Run (Treadmill)


Sarah Gaines, The Cheerleader
We always look forward to Sarah's classes because of how motivating she is. She pushes us to push ourselves (but in the nicest way possible). A little ball of energy, she makes every workout fly by, no matter how tough it may be.
Featured 15-Minute Workout: Fast Fusion (Fusion)


Ian Kilpatrick, The Laid-Back One
Don't let Ian's chill personality fool you—his workouts are challenging and will push your limits. He draws on his athletic background to put together strength workouts with a strong focus on form, so you're learning as you're getting stronger.
Featured 15-Minute Workout: Buddy Run (Outdoor Running)


Alex Leviner, The Mover & Shaker
Take one of Alex's classes in person and you'll see how much the man loves to move. Take one of his Studio classes and you'll feel it. A huge music lover who tends to dance along to his workouts, Alex leads his classes with fun. And it's infectious.
Featured 15-Minute Workout: Build Some Muscle (Strength Training)


Laura Mucci, The Mindful Master
Laura is one of those rare trainers who makes you feel like you can do anything. She pays strong attention to mindfulness, encouraging her clients to dig deep mentally to find the strength to get it done—and she strives to bring this focus to every workout she leads.
Featured 15-Minute Workout: Strong, Lean Legs (Strength Training)
Head over to the app today to start a workout with one of our awesome trainers. Choose from strength training, fusion (strength + cardio), elliptical, treadmill, indoor cycling, and outdoor running!